Sociology Publications
My main publications reflect my research interests in the sociology of age, gender and generations.
books
Key Concepts in Gender Studies, SAGE 2017 (co-author with Imelda Whelehan).
'Key Concepts in Gender Studies is testament to the interest, energy and dynamism of feminism today.  Now in a revised second edition, it must have been incredibly tough to set the limit at 50, but Jane Pilcher and Imelda Whelehan have done it again: produced a book that is lively, important and accessible. With entries that cover key concepts, historical terms, theoretical arguments, and activism from Malala to SlutWalk to transgender, this book offers an excellent introduction to debates in contemporary gender studies'.
Rosalind Gill, City University London
Thatcher's Grandchildren? Politics and Childhood in the Twenty-First Century, Palgrave, 2014 (co-editor with S. Wagg)
 Young People In Transition. Becoming Citizens, Palgrave, 2005 (co-editor with C. Pole and J. Williams).
Fifty Key Concepts in Gender Studies (with I. Whelehan), Sage, 2004.
'Lively and impressive. I can easily imagine this text being used by both gender and women's studies undergraduates and postgraduates. In particular it will enable students to get a sense of how older and more contemporary theoretical movements and debates relate to one another'

 Lisa Adkins, Department of Sociology, University of Manchester.
Women in Contemporary Britain. An Introduction, Routledge, 1999.
'An excellent introduction to the key debates and areas of feminist theorising'.

Dr Christina Hughes, University of Warwick.
Women of Their Time. Generation Gender Issues, and Feminism, Ashgate, 1998.
'…a fascinating analysis of changing attitudes to the domestic division of labour, social issues and feminism during the twentieth century …This study is unique and provides considerable insight into the everyday lives of families across the generations. It deserves to be widely read and enjoyed by academics and students alike.'

Teresa Rees, Professor of Labour Market Studies, University of Bristol, UK
'The overwhelming leanings towards individualism found in this study have important implications for a feminist perspective based on women as a collectivity. Pilcher proves that women's accounts of gender issues are important in their own right and must be adhered to if a future feminist politics is to thrive and be relevant to women of all ages.'

Reviewer, Work, Employment and Society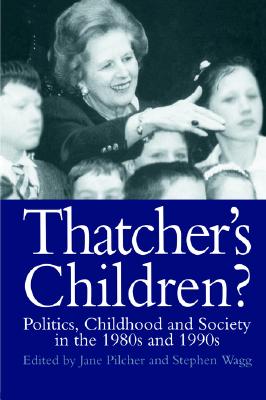 Thatcher's Children? Politics, Childhood and Society in the 1980s and 1990s, Falmer Press 1996 (co-editor with S. Wagg)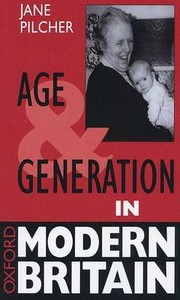 Age and Generation in Modern Britain, Oxford University Press, 1995.
'A systematic and immediately accessible account of this 'new frontier' of sociological analysis … a valuable introduction to this neglected but increasingly significant area of sociological inquiry.'

NEWI
'Jane Pilcher's book fills an important gap in the sociological literature by providing an overview on the role and the importance of age in contemporary British society … Written in a clear and accessible style, the book is an excellent introduction to the sociology of age and generation.'

Reviewer, Ageing and Society
Return to the top
journal articles
2016 'Names, Bodies and Identities', Sociology 50 (4): 764-779. Shortlisted for the 2017 SAGE Prize for Innovation and Excellence.
2013   'Small But Very Determined': A Novel Theorization of Children's Consumption of Clothing', Cultural Sociology 7 (1): 86-100.
2011    'No Logo? Children's Consumption of Fashion', Childhood 18 (1) : 128-141. http://chd.sagepub.com/content/18/1/128
2010    'What Not to Wear? Girls, Clothing and Showing the Body, Children and Society 24 (6): 461-470. http://onlinelibrary.wiley.com/doi/10.1111/j.1099-0860.2009.00239.x/abstract
2007     'Body Work: Childhood, Gender and School Health
Education in England, 1870 to 1977', Childhood, 14 (2): 215-233.
2005    'School Sex Education: Policy and Practice in England 1870-2000', Sex
Education 5 (2) : 157-174.
2004    'Sex in Health Education: Official Guidance for Schools in England,
1928-1977', Journal of Historical Sociology 17 (2-3): 185-208.
2003    'Rethinking Adulthood: Families, Transitions and Social Change'
(co-author with J. Williams and C. Pole) Sociological
Research On-line 8 (4),

2000    'Change Slow A-Coming': Domestic Divisions of Labour in the Twentieth
Century', Work, Employment and Society 14 (4).
1998    'Gender Matters? Three Cohorts of Women Talking About Role Reversal',
Sociological
Research On-line 3 (1).
1997    'Contrary to Gillick: British Children's Sexual Rights Since 1985', International
Journal of Children's Rights 5 (3).
1996    'Transitions to and from the Labour Market: Younger and Older People
and Employment', Work, Employment and Society 10 (1).
1995    'The Gender Significance of Women in Power: Women Talking About
Margaret Thatcher', European Journal of Women's Studies 2(4).
1994    'Mannheim's Sociology of Generations: An Undervalued Legacy', British
Journal of Sociology 45. http://leicester.academia.edu/JanePilcher/Papers/244971/Mannheim-S-Sociology-of-Generations–An-Undervalued-Legacy
1989    'Challenging Occupational Stereotypes: Women's Training Roadshows and
Guidance at School Level' (with, S. Delamont, G. Powell, and T. Rees),  British
Journal of Guidance and Counselling 17 (1)
1988    'Women's Training Roadshows and the "Manipulation" of Schoolgirls'
Career Choices' (with, S. Delamont, G. Powell and T. Rees), British Journal of Education and Work 2 (2): 61-66.
Return to the top
chapters in edited collections
2014 'The Politics of Children's Clothing' in Wagg, S. and Pilcher, J. (eds.) Thatcher's Grandchildren? Politics and Childhood in the Twenty-First Century, Palgrave.
2008    'Mannheim, Karl 1893-1947' in Encyclopedia of the Life Course and Human Development. Ed. Deborah Carr. Vol. 2. Detroit: Macmillan Reference USA,  p.255-256.
2001    'Explaining Gender and Gender Inequalities' in Giddens, A. (ed.) Sociology. Introductory Readings, Polity.
1996 'Gillick and After: Children and Sex in the 1980s and 1990s' in Pilcher, J. and Wagg, S. (eds.) Thatcher's Children? Politics, Childhood and Society in the 1980s and 1990s, Falmer Press
1994  'Who Should Do the Dishes? Three Generations of Welsh Women Talking About Men and Housework' in Aaron, J. et al (eds.) Our Sisters' Land. The Changing Identities of Women in Wales, University of Wales Press
Return to the top
Articles in Sociology Review:
'The Uses of Sociology' (2004)
'"Blair's Babes": Formal Politics and Femininity in Britain' (2000)
'Hormones or Hegemonic Masculinity? Explaining Gender Inequality' (1998)
'Growing Up and Growing Older: the sociology of age' (1995)
'"I'm not a feminist but…". Understanding Feminism' (1993)
Return to the top